As the numbers of schools using Write Dance has grown, so has the need to provide more regular training sessions.
Diana Strauss is the key contact for Write Dance Training in the UK and trialled the first pilot projects in the South East of England, with the author Ragnhild. Diana is the co-founder of Write Dance Training with her colleague and friend Nicole Barrons who is also a Write Dance and Educational trainer.
Inspiring Practitioners to 'Have a Go'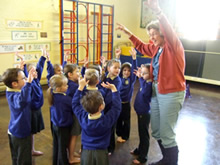 Whilst our training sessions are based upon the Write Dance books by Ragnhild Oussoren, our aim is to empower and inspire practitioners to 'have a go', to enjoy the process of learning and using the materials. This generally leads to greater confidence when using the approach, and ultimately participants will be encouraged to create their ideas for their own setting.
Our training sessions are largely practical and focus on understanding the theoretical principles that support the main themes and movements. As a participant you will learn about the these, explore the 'music- themes' and learn how to set up a session.

If you have questions about any aspect of the programme or would like to inquire about booking a Write Dance training session – just contact us here.