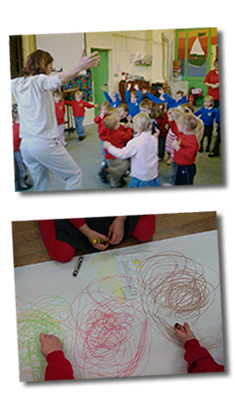 Write Dance is an approach and a method that provides movement opportunities so children can develop the physical skills needed to develop their handwriting. The movement is driven by the music and the underlying principle is enjoyment to build confidence.  Write Dance was developed by Ragnhild Ousseren.
On this one day workshop you will:
Have an overview of Write Dance, the principles and the benefits
Understand the 9 music and movement themes
Know  how to set up a Write Dance session in your setting
Develop progression activities to develop handwriting
Experience practical movement and mark making activities
Who should attend?
Early years and foundation stage staff, Key stage 1 and 2 teachers and support staff, Special Needs staff and other professionals, interested pupils
Spaces are limited at this special introductory event so book your place early!
Cost:   Introductory Price – £95
Venue:   Westminster Kingsway College,London SW1P 2PD
Timings:   9.30  -2.30 (lunch not included)
Write Dance Trainers:   Diana Strauss and Nicole Barrons
"I really enjoyed the Write Dance Training with Nicole, the session was fun and informal.  I feel confident and ready to use the ideas and I am really excited about using Write Dance with my Reception class…"