We are excited to introduce the first day training to incorporate
all the Write Dance books

. There are now 3 books to cover Early Years through to 9 yrs. So if you are new to Write Dance or want to revise and learn new activities you have the option of booking the full day or one of the half day trainings.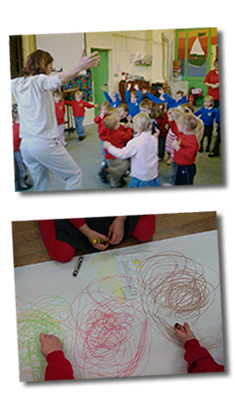 Write Dance is a progressive music and movement programme for the development of pre-writing and writing skills in children. The underlying principle is enjoyment and to build confidence. The programme was developed by Ragnhild Oussoren. Write Dance is widely used across the UK and abroad.
You will find lots more information about Write Dance here on our website.

"My group have had so much success – Write Dance works! It's brilliant'

"Fantastic fun and engaging training. What a great way to involve reluctant learners, different learning styles and and make handwriting and pre-writing accessible to all. Thanks."
At the day training (9.30 – 3.30) you will:
Have an overview of Write Dance, the principles and the benefits
Understand music and movement themes for 4 – 9 yrs
Know how to set up a Write Dance session in your setting
Develop progression activities to develop handwriting
Experience practical movement and mark making activities
Day training session £97 (not including lunch)
The morning training session (9.30 -12.00) will focus on an introduction to the materials and themes focusing mostly on the book 'Write Dance' Second Edition Red book – £60
The afternoon training session (1.15 -3.30) is for those already familiar with the Red book and who want to develop extension activities for handwriting – the focus will be on the 'More Write Dance' (Green book) 'materials for 5 – 9 yrs – £60
Venue
Jubilee Library Conference Rooms, Jubilee Street,Brighton, BN1 1GE
Who should attend:
Early years and foundation stage staff, Key stage 1 and 2 teachers and support staff, Special Needs staff and other professionals
Spaces are limited – book your place now!
Reminder – Please wear comfortable clothing and suitable footwear for the movement session
Spaces are limited to ensure maximum benefit to attendees so book your place early!
"I really enjoyed the Write Dance Training with Nicole, the session was fun and informal.  I feel confident and ready to use the ideas and I am really excited about using Write Dance with my Reception class…"