Ragnhild Oussoren first developed the Write Dance approach when working as a graphologist in The Netherlands.  She based the method on 'writing psychology' from France, which can be traced to the late 19th century as well as 'writing-teaching' from Germany that dates back to the 1960s.
The unique aspect of the programme is the use of music and dance.  This combination of rhythmic and then melodic pieces of music are chosen so the children can follow and learn specific movements to develop their physical skills including, balance, coordination, flexibility and stamina.
Today Write Dance has spread beyond Europe to Australia, America and the Gulf States and continues to grow worldwide.
The success of Write Dance is wholly attributed to the enthusiasm of practitioners and teachers who share this resource and spread the practice by 'word of mouth'.
Guiding and Aiding Children's Imagination and Language Development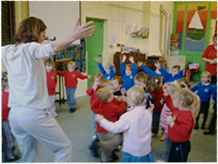 The music and the dance is used to guide and aid children's imagination and language development, so the pieces of music, with the corresponding movements, are structured into 'narrative' themes that can be developed as stories or these can be enjoyed as separate and 'stand-alone' sessions.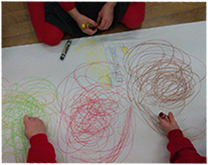 Rhythm is closely linked to rhyme and children are encouraged to use their voices to describe the actions as they move and dance.  Mark-making and 'movement drawings' ensure that the children progress from whole body dance moves to fine- motor movements with fluency and speed.  This provides the crucial learning environment, the most appropriate resources and the most motivating and stimulating programme to support and develop mature physical skills more quickly.
"Everything in Write Dance is Right"
Children's individual expression, pace of learning and writing style are recognised within this approach.  It is apparent that children's confidence, motivation and self-esteem can be seen to develop because as Ragnhild says, "Everything in Write Dance is right".

If you have questions about any aspect of the programme or would like to inquire about booking a Write Dance training session – just contact us here.
If you have any difficulty using the link to contact us please email us
at info@writedancetraining.com